COMPETENT LEVEL
INTRODUCTION TO CYBERSECURITY
DURATION

3 Days

PRACTICE

50%

TRAINEES

minimum 5 ppl

LANGUAGE

 FR

CERTIFIED

DIATEAM
This course will introduce you to network security and information system security. This training is based on 2 virtual infrastructures allowing to carry out attack/defense scenarios corresponding to recent vulnerabilities (less than 3 years old). Scenarios, OS versions, vulnerabilities and associated payloads can be modified if required. Infrastructures are provided with the set of vulnerabilities necessary for the run of the scenarios, answering to 4 types of cyber risks : cybercrime, defamation, intelligence gathering and sabotage. ​
The Offensive Adversary Operations course is designed to help the candidates build the capabilities to mimic a modern adversary. This course will take you through the different stages of an Attacker kill chain. DIATEAM has conducted hundreds of adversary simulation exercises over the years: we will leverage our knowledge and experience to give you the best know-how to conduct efficient red team operations. This adversarial training goes through the foundation of Red Teaming and, by simulating advanced threat actors, provides defensive staff with visibility on how an adversary would manoeuvreagainst him. Students will learn the Tactics, Techniques, and Procedures (TTPs) used by the adversaries to create a comprehensive cyber kill chain. Actual and advanced techniques will be set up to emulate the adversary during multiple highly realistic labs. The initial intrusion phase will give you access to an Active Directory Domain Environment Lab where you will execute your implant to compromise a host. From thereon, you will perform different types of local and Active Directory enumerations to finally gain full Administrator privileges.
Understanding of OS architecture

​

Good experience with Windows OS

​

IP Network and TCP/IP protocols

 
DIATEAM provides Certificate Of Completion for every completed course. This certificate may be verified by contacting training@diateam.net using the enrolment ID from the given certificate.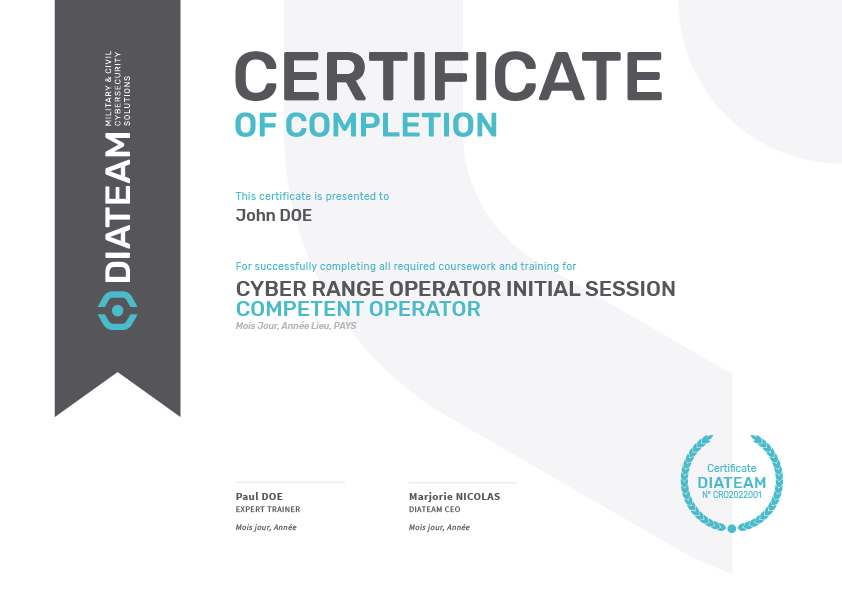 CONTACT US