A tailored environment to empower your cyber skills!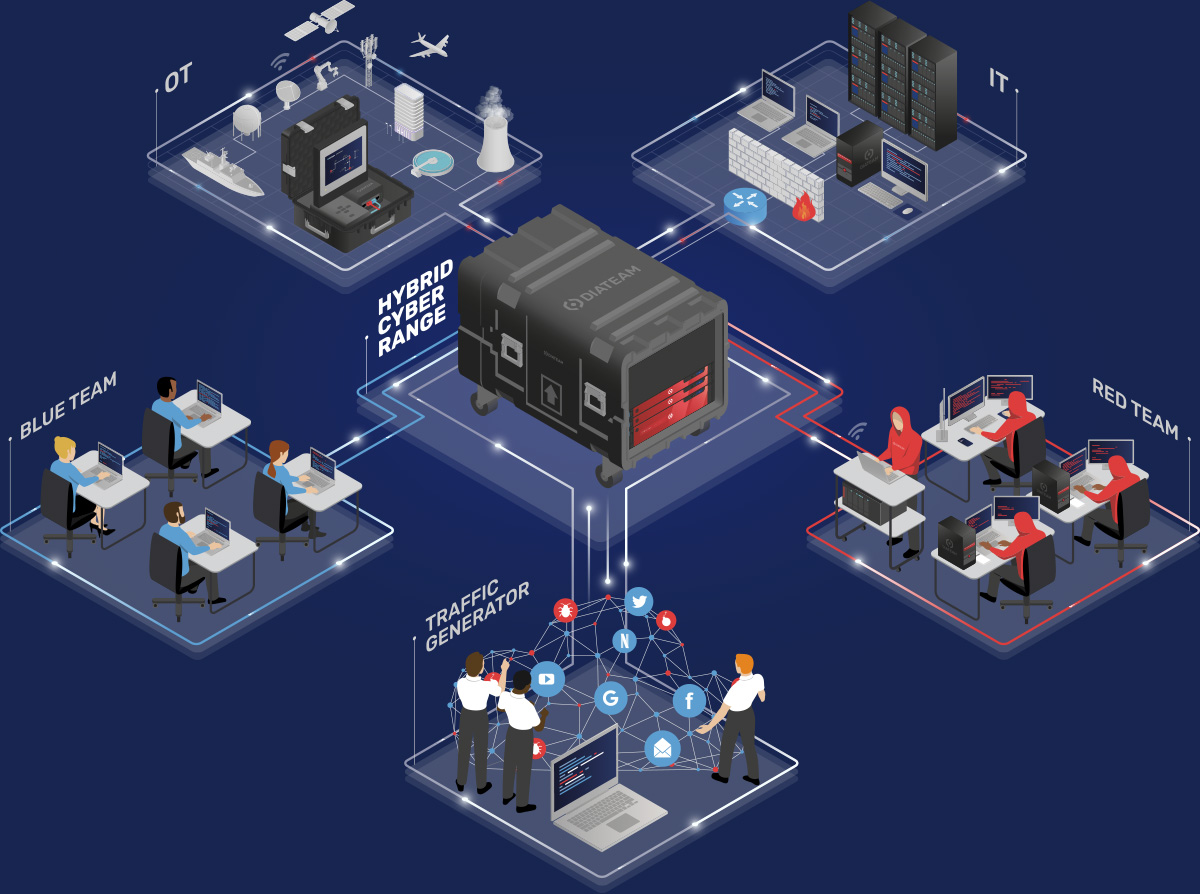 Cyber Range is a virtual environment that enables organizations to simulate cyber combat training, system/network development, testing and benchmarking.
Cyber Ranges are simulation platforms for operational teams to train, improve responsive capacity in case of a cyber crisis.
Furthermore, it is a user-friendly and powerful way of replicating existing information systems to test and develop skill set such as pentesting, network protection, system hardening, TTPs aka Tactics, Techniques & Procedures and incident response.
Beyond the operational purpose, it is also a relevant demonstrative means to raise awareness, especially among end-users (including managers and board members) by showing them in a realistic manner what damages can be caused by ransomware attacks for instance.
What about Hybrid Cyber Range?
DIATEAM's Hybrid Cyber Range allows you to connect any network equipment.
As you may guess, this original feature opens the scope of possibilities.
Hybrid Cyber Range operators can enhance their playground by connecting any devices like OT industrial automates or wireless networks.
Simulate any information system. Your imagination is the limit!
Create your own topologies, scenarios, content for feeding defensive and offensive exercises.
TRAIN YOUR OPERATORS IN BETTER PROTECTING OT ENVIRONMENTS
High-level threat actors lead more and more cyber attacks on industrial sites. Operations technology (OT) systems are definitely the target of choice for Cyber Criminals or mercenaries. Therefore, organizations must focus on OT vulnerability management and crisis simulation to strengthen their preparedness in case of real attacks.
To that extend, our SCADAVIRT solution enables you to test, benchmark, prototype a wide range of industrial connected devices.
CONTACT US
A lesson seems clear.
Wargaming, in terms of extensive tactical simulators, is no longer a luxury.
It is an essential element of combat team training.

Admiral Thomas Hayward, 1990

Cyber Range
It's a real privilege for Thales to contribute to raise the global level of Cyber awareness of IT and cyber workforces in Oman with DIATEAM, a partner of choice for developing and providing valuable Cyber Range platforms and contents.

Pierre JEANNE, Vice President, Cybersecurity Technologies and Solutions at Thales
The Oman Public Authority's Advanced Cyber Academy is teaching national cadres how to protect & defend networks against Cyber Attacks using Thales Cyber Range, a platform developed and powered by our partner DIATEAM

Thales

Cyber Security Department
I truly recommend DIATEAM if you want to test/diagnosis your cyberattack resilience or even just to train your teams.

Steven Le Roux

OVH