A VIRTUOUS, ETHICAL
AND SUSTAINABLE APPROACH
Since it has been created in 2002, DIATEAM has always paid significant attention to social, ecological and environmental questions relating firstly to its activity, but also to the world as a whole. The company makes every possible effort to reach towards the most sustainable way of action, on a short scale as much as on a bigger scale, and on a daily basis as well as on a longer term.
This fits into a more global company approach: DIATEAM has constantly chosen to remain a human scale company, for its creators have always emphasized a virtuous way of action, in which employees can see further than their own role and daily tasks to embrace a plural and global approach. This acts as an incentive for them to feel directly implicated and concerned by the company's activity as a whole. So DIATEAM has chosen to capitalize on the talents it recruits, and is able to cement a passionate and curious team through everyone's fulfillment.
Thanks to all this, human resources reflect the open mind of DIATEAM, which gathers together very diverse profiles. Indeed, when it comes to selecting employees, DIATEAM always puts state of mind first over educational and professional background, which translates into a wide array of ages, cultures, careers and know-hows.
DIATEAM invites everyone to share their energy and ideas, and also to express their potential questions in a collaborative and plurilateral optimization approach of means implemented in every field of action. This is about the work itself as much as about daily "office life", and it really eases the realization of professional, ethical, ecological and environmental processes.
This open and as virtuous as possible approach also translates into the design of the cyber range solutions offered by DIATEAM, which is made with a permanent emphasis on freedom of use, durability, sustainable sourcing, collaborative state of mind, transparency and traceability.
DIATEAM's sense of family comes with a local anchorage, as the company has been founded on the premises of the Brest National School of Engineering (ENIB, École Nationale d'Ingénieurs de Brest) in Technopôle Brest Iroise, in Plouzané, 10 km away from Brest, before it moved to city center in 2007, to finally settle in 2019 on the premises of a former locally well-known nautical shop, and there create the DIAPLEX.
This anchorage has also made it possible for DIATEAM to build strong relationships with several training establishments and schools on the local level, so as to develop training courses on the different aspects of cybersecurity, and so be able to train and recruit candidates in the way of a "local distribution network".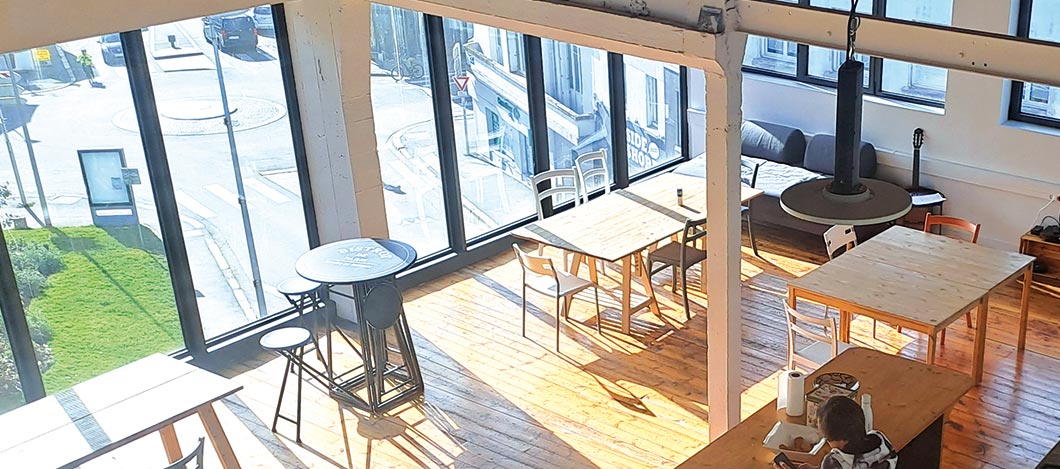 TANGIBLE MEASURES
AND BENEFITS
Serious work in a
soft and open framework
• DIATEAM values its employees' well-being and ensures to setup a pleasant living environment in the DIAPLEX as well as, thanks to its location, around it (proximity of transports, shops, amenities…);
• DIAPLEX's architecture is based on large glass surfaces to offer its occupants very enjoyable natural lighting, and its interior is largely made of wood, which conveys a warm and welcoming atmosphere. This philosophy is also reflected by the large common space, which is open on the city, and where employees can for example take a break or eat lunch;
• Beyond living environment, DIATEAM wishes to offer its employees an also pleasant working environment by letting them enjoy flexibility in their work schedules so they can fit in their outside activities for their personal fulfillment. This allows several DIATEAMers to enjoy, during their lunch break, the diverse activities offered near the DIAPLEX (climbing, yoga, or even axe-throwing on the ground floor of the building for example) and, when they come back to work, they can use the shower available on the premises;
• DIATEAM's open mind translates into the varied and versatile profiles it gathers together. Actually, as the company puts state of mind first over educational background, we can go for candidates who do not always follow a traditional and linear training course;
• DIATEAM works for the training of its employees (work-linked training, professional retraining), as well as for the training of students in Brest's area, via its partnerships with different training establishments and schools;
• DIATEAM can count on its employees' loyalty, as many of them have been working for the company for more than five years.
"DIATEAM may recruit young candidates who are close to be out of the system, but passionate about cyber -and is never reluctant to make the efforts necessary to train and accompany them in developing tangible skills- as well as older candidates, which results in employees being aged from their twenties to their sixties.

Guillaume Prigent

Chairman
Cybersecurity and sustainability
• DIATEAM systematically prioritizes sourcing of mature
components, which have extended lifetime, and will,
whenever possible, choose Open Source solutions with an
auditable and editable code;
• DIATEAM emphasizes on durability and sustainability by providing maintenance and support of its products delivered for more than ten years;
• DIATEAM also ensures traceability of all components used to develop its solutions;
• DIATEAM offers total freedom of use to its platforms,
which is never artificially locked to enable its users to be
autonomous and independant.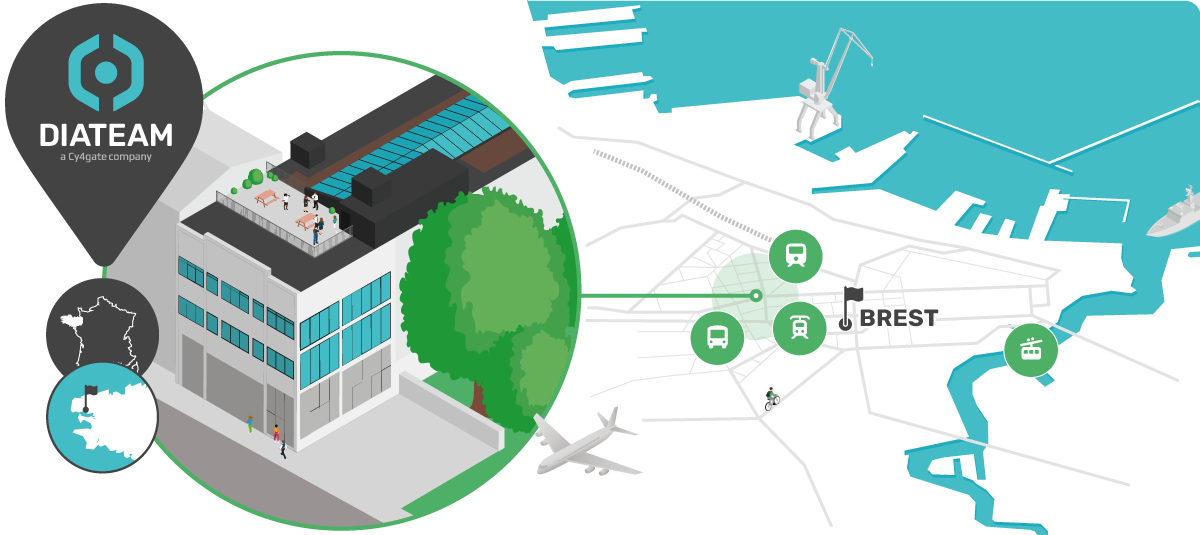 • Sustainable mobility promotion and development are primary paths of evolution for every company. DIATEAM's geographical location, right in the heart of Brest's city center, offers a wide array of significant benefits to that extent;
• The central location of the company enables its employees and visitors to come by carbon-constrained means of transport. Indeed, the DIAPLEX is located near Brest's railway station, a few dozens of meters away from tram and bus stops, and is easily accessible by foot or by bike for employees and visitors living in town.
This geographical location has a tangible impact, for more than 80% of DIATEAM's employees come to the office by sustainable means of transport (train, public transport, bike, walking);
• DIAPLEX offers a covered bike shed for employees choosing
this means of transport;
• When DIATEAM's employees must travel for business purposes, the company always favors train (systematically for inner France travels).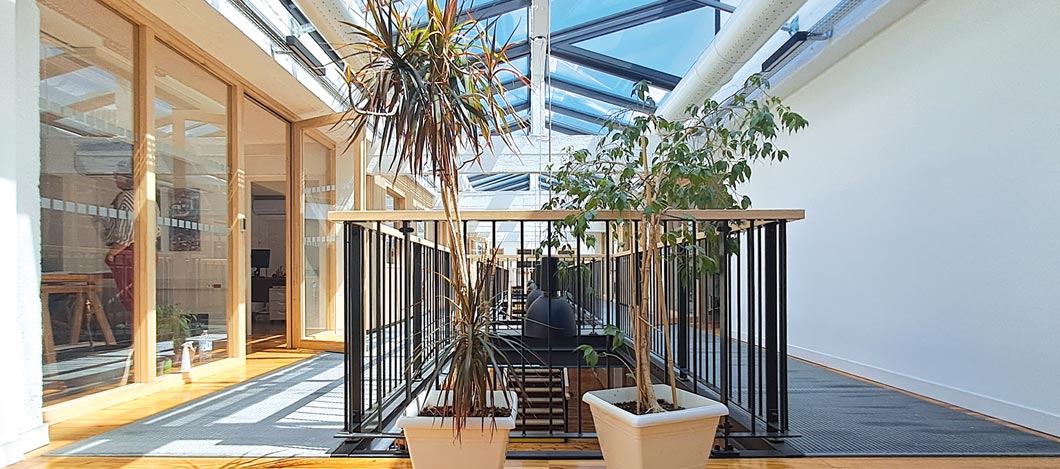 Resource optimization, energy savings
and waste management
• Rather than erecting a new building, DIATEAM has chosen in 2019 to settle on the premises of a former nautical shop, a well-known place for local surfers and windsurfers, and to perform a redevelopment to turn it into a pleasant and relevant working tool complying with applicable standards. In order to optimize its energy consumption, before the renovation work, DIATEAM has used the services of a heat engineer to achieve an optimal result;
• On a daily basis, DIATEAM constantly tries to reduce its waste to a minimum, for example by inviting its employees to limit printed copies and to favor digital format every time they can. The company itself resorts as much as possible to dematerialization to share and exchange documents with its employees;
• In order to reduce its needs for components, which have a huge impact on environment, DIATEAM has a very careful analytical approach of material properties of servers supporting its platforms. For equivalent power, the company will systematically go for low-power consumption equipment. Likewise, DIATEAM favors high concentration and integration servers to reduce the number of equipment units needed to deliver equivalent power;
• DIATEAM practices selective sorting of waste, making sure that every employee always respects policies applicable in this field on Brest metropolis.