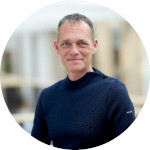 On next October 5th, during the second edition of Breizh Cyber Show, our Chairman Guillaume Prigent will co-host a round-table entitled Les Pièges des profondeurs des cybercriminels (FR). He will then have the opportunity to explain what the operating methods of cyberattackers are, as well as how to face them. He will namely address one's defence posture not only in anticipation, but also in the operational conduct one should adopt on the very day of the crisis.
To discuss the subject, his co-hosts will be David Espes, researcher and professor at UBO (University of Western Brittany) & Christian Cevaer, regional delagate for ANSSI.
See you on Thursday, October 5th (6:45 pm) at Océanopolis Brest. (Ending around 9:30 pm.)
Feel free to register ! There are currently a few tickets left.